Corporate Profile
The Middleby Corporation is a worldwide manufacturer of commercial kitchen equipment, residential appliances and systems for industrial processing, packaging, and baking. With more than 100 brands in three complementary business segments, Middleby innovates, manufactures, and markets its solutions and products around the world. 

Commercial Foodservice Equipment
Middleby is one of the largest global providers of solutions for the commercial kitchen. The company manufactures innovative equipment for use in cooking, refrigeration, and beverage, as well as advanced solutions to run operations more efficiently. These advanced solutions include IoT which provides real-time data, air purification and a full-service ventless operation, among others. Middleby is used in restaurants, from quick service to fine dining, as well as in grocery stores, hotels and institutional foodservice such as hospitals and schools. Middleby can usually be found anywhere there is a commercial foodservice. Middleby customers in the Commercial Foodservice Equipment Group include YUM! Brands, Dunkin', Burger King, Domino's, Five Guys, Kroger and many others. Middleby is used and endorsed by top chefs worldwide, while being the recipient of top industry and customer awards and for its patented cooking innovations. The company has many ENERGY STAR® rated products in its portfolio.

Middleby brands are some of the best known in the industry and include, TurboChef, Follett, Star, Blodgett, Pitco and Taylor. Product offerings are in both commercial kitchen and beverage and include conveyor ovens, ranges, steamers, convection ovens, combi ovens, broilers and steam cooking equipment, induction cooking systems, speed cook ovens, baking and proofing ovens, char broilers, catering equipment, fryers, toasters, hot food servers, food warming equipment, griddles and coffee/beverage dispensing equipment.
In 2021, Middleby opened the Middleby Innovation Kitchens (MIK). Located in the Dallas area, the MIK is a one-of-a-kind facility with top chefs demonstrating 15 active cooking vignettes and 150 pieces of innovative, live Middleby equipment in a 40,000-square-foot facility.
Residential Kitchen Equipment
The Middleby Corporation entered the residential appliance market with the acquisition of Viking Range in 2013. In 2021 the company strengthened its presence in the outdoor grilling enthusiast arena with the acquisition of brands Kamado Joe, Masterbuilt and Char-Griller. Within the Middleby Residential product portfolio, the premier and outdoor cooking brands also include AGA, Brava, Evo, La Cornue, Lynx Grills, Marvel, Mercury, Novy, Rangemaster, Rayburn, Sedona, Ss Brewtech, Stanley and U-Line. The product portfolio features ranges, built-in surface cooking and ovens and induction cook tops, stand alone and built-in refrigeration and a wide selection of outdoor cooking equipment. Middleby Residential has four award-winning showrooms in Chicago, New York City (Manhattan), Dallas and Southern California (Orange County). Middleby Residential customers benefit from the engineering and innovation that is shared from Middleby Commercial Foodservice, allowing residential customers to truly experience commercial grade innovation and chef-approved appliances and design in their home kitchen.
The MIK includes Chef-driven demonstrations that showcases the best of Middleby innovation. Led by Certified Master Chef Russell Scott, the concept was built for our customers and channel partners. The MIK is a one-stop destination for hands-on learning about the extensive Middleby line of automation, beverage, brewing, cooking, IoT, ventless and refrigeration technologies, just to name a few. Along with its massive demonstration floor, the MIK also offers a state-of-the-art training room, as well as Middleby Made, our 70-person dining room with a custom menu.
Food Processing Equipment
Middleby is a leader in systems for the industrial processing, baking, and packaging industry.

The Middleby Food Processing Equipment Group manufactures preparation, cooking, baking, packaging and food safety equipment for the industrial food processing, baking and packaging industries. Products include batch ovens, belt ovens, continuous processing ovens, automated thermal processing systems, automated loading and unloading systems, meat presses, reduction and emulsion systems, defrosting equipment, and packaging and food safety equipment. Other products include breading, battering, mixing, forming, grinding and slicing, and food suspension equipment. Brands in the Processing Group include: Alkar, Armor Inox, Auto-Bake, Baker Thermal Solutions, Cozzini, Danfotech, Drake, Maurer-Atmos, MP Equipment, RapidPak, Spooner Vicars, Stewart Systems and Thurne. Innovation from these brands help Middleby customers save on labor costs, water and other natural resources, and time.
Stock Chart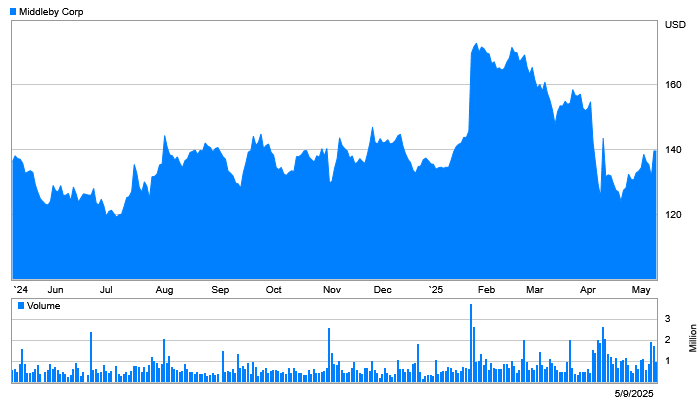 Data Provided by Refinitiv. Minimum 15 minutes delayed.